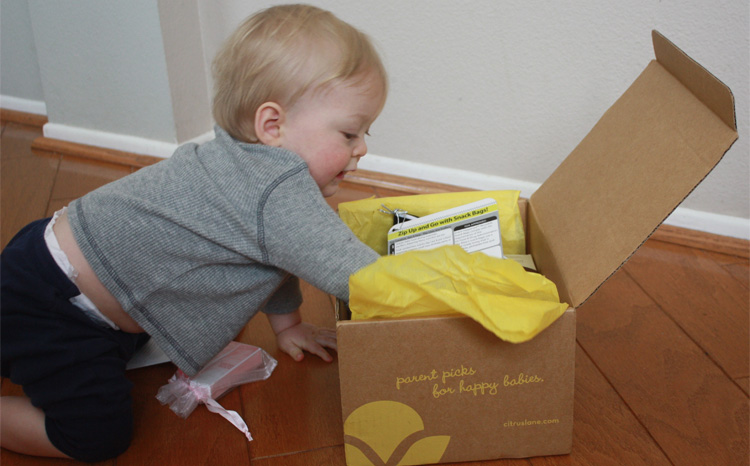 With school over many SAHMs will be looking for some fun things to keep the kids busy this summer. And nothing beats boredom better than a new surprise in the mail each month. It is also a way to try new and interesting products geared towards kids of all ages.
Luckily, there are a large amount of boxes available for kids, but they are not all equal in price or content. To avoid the hassle of browsing through all of the different options available we have created a list of the 5 best boxes on the market.
This one is a proven favorite! Every month for as little as $25 you receive a box crammed full of different products personalized towards the age of your child (baby, toddler and preschool). Books, toys, snacks and useful objects such as eating utensils or backpacks are carefully selected from different brand partners and delivered to your door. The box is a great way for kids to enjoy new toys and parents to discover new products. SAHM.org has an Exclusive 40% off Coupon to Citrus Lane
Each box is super diverse and contains only products of high quality. And there is always something that Mom will enjoy too, whether it is a new sippy cup or a tasty snack. The best thing about the Citrus Lane box is that it is customized towards the child's age, so you can start at any time, even when you are pregnant.
The Kiwi Crate is specifically catered towards arts and crafts for the 4-8 year old. Every month a crate arrives containing everything you need to create 2-3 projects. Every crate is based on a theme, one month it could be a rainforest theme, the next a travel theme. The boxes are always complete with everything needed to finish the projects and are created to stimulate excitement, interest and hours of fun. Subscriptions start at as little as $17 a month depending on the plan you choose. A great gift for the crafty child!
The Little Passports box is developed for kids from 3-12 and aims to develop their interest in learning about the world. While not full of toys and products, this box provides all the tools to discover different countries and traditions, helping children learn through stories, games and fun. This is the most affordable box on the list; for a minimum of $14 a month your child will receive all the information to become a world traveler from home!
Another crafty subscription box, Green Kid Crafts offers monthly creative and science projects that are all aimed towards providing kids with information on being more eco-friendly and teaching them to discover the world with their own eyes, minds and hands. Subscriptions start at $18 a month for a box containing up to 4 projects. The boxes contain everything needed to complete each project and all supplies are eco-friendly and child-safe.
Kidstir is a monthly box geared towards introducing the 5-10 year old to food and cooking, and giving the already food-loving child the chance to explore different recipes and ingredients. At $24.95 for a single kit and less if you buy several months upfront, the kits come with recipes, nutritional information, games, projects, a kitchen utensil and one ingredient. You can use the kits for individual or group activities and it's a great way to bring the family together in the kitchen.
Subscription boxes are a great way to add an extra element of fun and surprise to the household, all for a small monthly fee. While the 5 listed above are the best on the market right now, there are many others out there, specializing in different topics from infant activities to Lego addicts!