4. Lava Lamp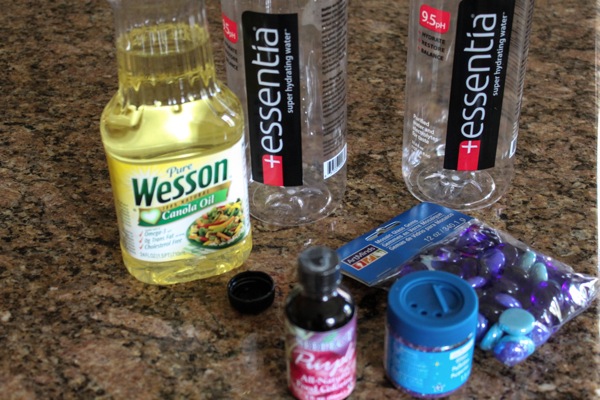 Confession: I seriously loved my lava lamp as a teenager. This one doesn't get hot, but should offer the same level of fascination for kids. All you need is a plastic bottle, oil, food coloring, and effervescent tablets: Alka-Seltzer, PepFizz, etc.
Instructions
Fill your bottle or jar ¼ full with water.
Pour oil until the bottle is nearly full.
Wait until the oil and water have separated. (Don't let your kid touch the bottle! You need to get two separate layers.)
Add a dozen drops of food coloring to the bottle.
Watch as the food coloring falls through the oil and mixes with the water.
Break the Alka-Seltzer tablets into small pieces and drop one of them into the bottle. As the tablet hits the liquid, it starts fizzing.
It is just that easy – the colored bubbles start floating and dancing around the bottle just like a lava lamp. Plus, when the bubbling stops, add another piece of Alka-Seltzer tablet and enjoy the show again. I love this project for spring break because it is so simple! You could make your lamp even more interesting by dropping in glitter, googly eyes, or small plastic toys.
Super Soap Bubbles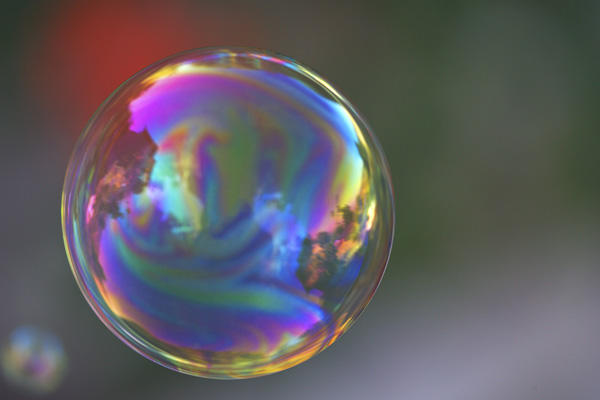 Gets the kids out of the house? Check. Burns off energy? Check. There are plenty of DIY tutorials about how to make your own bubbles, but these ones are super strong. It uses glycerin to create thicker bubbles that are stronger and last longer. It also means you can blow super big bubbles.
Ingredients
Liquid dish soap (Joy or Dawn brands work best. Avoid ones that say 'Ultra', or you'll need to double the glycerin.)
Distilled water (it makes the better bubbles, but tap water is okay)
Clean container with lid – needs to hold up to 8 cups.
Glycerin or light corn syrup
Instructions
Measure 6 cups of water into one container
Add 1 cup of dish soap into the water and stir slowly. Do not let bubbles or foam form
Add 1 tablespoon of glycerin or 1/4 cup of corn syrup. Stir gently until well mixed
That is all it takes! Try experimenting to see who can blow the biggest bubble or who can blow the most bubbles with one breath. You could also experiment with making your own giant bubble wand to make super huge bubbles.
Nothing quite compares to the childhood memories of spring break, but it can be difficult to keep your kids entertained all day. And hey, sometimes the creativity generator that is our brains gets rusty.
Do you have additional ideas for super engaging crafts? Please share your ideas in the comments below!